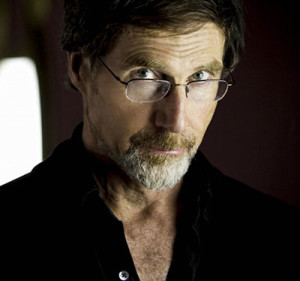 MOSES PENDLETON (Founder & Artistic Director)
Moses Pendleton has been one of America's most innova­tive and widely performed choreographers and directors for over 40 years.  A co-founder of the ground-breaking Pilobolus Dance Theater in 1971, he formed his own company, MOMIX, in 1980. Mr. Pendleton has also worked extensively in film, TV, and opera and as a choreographer for ballet companies and special events.
Mr. Pendleton was born and raised on a dairy farm in Northern Vermont. His earliest experi­ences as a showman came from exhibiting his family's dairy cows at the Caledonian County Fair. He received his BA in English Literature from Dartmouth College in 1971. Pilobolus began touring immediately and the group shot to fame in the1970's, performing on Broadway under the sponsorship of Pierre Cardin, touring inter­nationally, and appearing in PBS's Dance in America and Great Performances series.
By the end of the decade, Mr. Pendleton had begun to work outside of Pilobolus, performing in and serving as principal chore­ographer for the Paris Opera's Integrale Erik Satie in 1979 and choreographing the Closing Ceremonies of the Winter Olympics at Lake Placid in 1980. The creation of MOMIX that same year rapidly established an international reputation for highly inventive and often illusionistic choreography. The troupe has been touring steadily and is currently performing several programs internationally. The company has made numerous special programs for Italian and French television and received the Gold Medal of the Verona Festival in 1994.
Mr. Pendleton has also been active as a performer and choreographer for other companies. He has staged Picabia's Dadaist ballet Relache for the Joffrey Ballet and Tutu­guri, based on the writings of Artaud, for the Deutsch Opera Berlin. He created the role of the Fool for Yuri Lyubi­mov's production of Mussorgsky's Khovan­schina at La Scala and choreographed Rame­au's Platee for the U.S. Spoleto Festival in 1987. He contributed choreography to Lina Wertmuller's production of Carmen at the Munich State Opera in 1993. More recently, he has choreographed new works for the Arizona Ballet and the Aspen Santa Fe Ballet. He teamed up with Danny Ezralow and David Parsons to choreograph AEROS with the Romanian National Gymnastics Team.
His film and television work includes the feature film FX2 with Cynthia Quinn, Moses Pendleton Presents Moses Pendleton for ABC ARTS cable (winner of more than 10 international awards including a Cine Golden Eagle award and the US Film and Video Competition – now known as Sundance – Special Jury Award), and Pictures at an Exhibition with Charles Dutoit and the Montreal Symphony, which received an International Emmy for Best Performing Arts Special in 1991. Mr. Pendleton has made music videos with Prince, Julian Lennon, and Cathy Dennis, among others.
Mr. Pendleton is an avid photographer with works presented in Rome, Milan, Florence, and Aspen. Images of his sunflower plant­ings at his home in northwestern Connecticut have been featured in numerous books and articles on gardening. He is the subject of the bookSalto di Gravita by Lisavetta Sgarbi, published in Italy in 1999. Mr. Pendleton was a recipient of the Connecticut Commission on the Arts Governor's Award in 1998. He received the Positano Choreographic Award in 1999 and was a Guggenheim Fellow in 1977. He is a recipient of a 2002 American Choreography Award for his contributions to choreography for film and television. In May 2010, Mr. Pendleton received an Honorary Doctorate of Fine Arts (HDFA) and delivered the keynote address to the University of the Arts in Philadelphia. Most recently, Mr. Pendleton choreographed the Doves of Peace, featuring Diana Vishneva, for the Opening Ceremony of the 2014 Sochi Winter Olympics. His photographs accompany the sixteen cantos of Phil Holland's The Dance Must Follow (2015), which takes Mr. Pendleton's own creative process as its subject.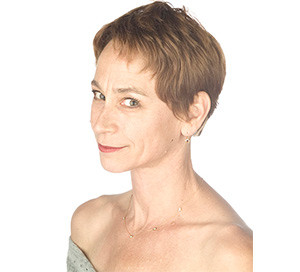 CYNTHIA QUINN (Associate Director)
Cynthia Quinn grew up in Southern California. She graduated Phi Beta Kappa from the University of California at Riverside and continued there as an Associate in Dance for five years. In 1988, she received the University's Alumni Association's "Outstanding Young Graduate Award". As a member of Pilobolus, she performed on Broadway and throughout the United States, Europe, Canada, Israel and Japan. She collaborated on the choreography of Day Two, Elegy for the Moment, Mirage, What Grows in Huygens Window and Stabat Mater.
Ms. Quinn began performing with MOMIX in 1983 and has since toured throughout the United States, Canada, Europe, Australia, South America and Japan. She has appeared in numerous television programs and music videos; and has assisted Moses Pendleton in the choreography of Pulcinella for the Ballet Nancy in France, Tutuguri for the Berlin Opera Ballet, Platee for the Spoleto Festival USA, Les Maries de la Tour Eiffel  in New York,  AccorDION for the Zurich-Volksbuhne Theatre and Carmen for the Munich State Opera, as well as Opus Cactus for Arizona Ballet and Noir Blanc for Aspen Sante Fe Ballet. She has also appeared as a guest artist with the Ballet Theatre Francaise de Nancy, the Berlin Opera Ballet and the Munich State Opera, as well as international galas in Italy, France and Japan.
Ms. Quinn made her film debut as "Bluey" (a role she shared with Karl Baumann) in FX II.  She was a featured performer in the Emmy Award winning "Pictures at an Exhibition" with the Montreal Symphony and has also appeared in a 3D IMAX film. Ms. Quinn is a board member of the Nutmeg Conservatory in Torrington, Connecticut and is on the advisory board of the Susan B. Anthony Project, also in Torrington, CT. Ms. Quinn was featured with Ru Paul and k.d. Lang for M.A.C. Cosmetics' "Fashion Cares" benefits in Toronto and Vancouver.  Ms. Quinn is co-choreographer of "White Widow," which is featured prominently in the Robert Altman film, The Company. Ms. Quinn was also featured in the film, "First Born," with Elisabeth Shue.  Most recently, Ms. Quinn co-choreographed the Doves of Peace, featuring Diana Vishneva, for the Opening Ceremony of the 2014 Sochi Winter Olympics. However, her most rewarding and challenging role is as a mother to her daughter, Quinn Elisabeth.