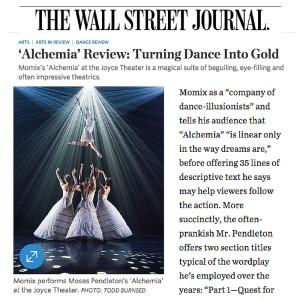 Alchemia Review in The Wall Street Journal
"[Alchemia is] a suite of beguiling, eye-filling and often impressive visual and movement theatrics."

"An exhilarating showcase of marvels for the men and women of Momix, who cavort for their eagerly applauding audiences like so many skilled acrobats in their element. Mr. Pendleton has made them gleam like gold."
-Robert Griscovic, The Wall Street Journal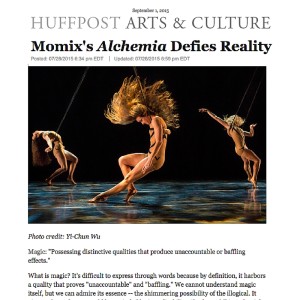 Alchemia Review in The Huffington Post
"[In Alchemia] the audience is struck by the overwhelming sentiment that we have just interfaced with genius. How Pendleton could imagine such a sensory overload from dust is incredible. He has successfully envisioned a mutualistic relationship between dance, music, costume, prop and projection that seems improbable, if not impossible; how would one person conceive of so much from nothing?"
-Alexandra Villarreal, The Huffington Post