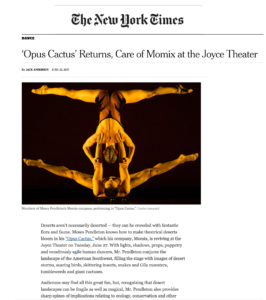 Deserts aren't necessarily deserted — they can be crowded with fantastic flora and fauna. Moses Pendleton knows how to make theatrical deserts bloom in his "Opus Cactus," which his company, Momix, is reviving at the Joyce Theater on Tuesday, June 27. With lights, shadows, props, puppetry and wondrously agile human dancers, Mr. Pendleton conjures the landscape of the American Southwest, filling the stage with images of desert storms, soaring birds, skittering insects, snakes and Gila monsters, tumbleweeds and giant cactuses.

Audiences may find all this great fun, but, recognizing that desert landscapes can be fragile as well as magical, Mr. Pendleton also provides sharp spines of implications relating to ecology, conservation and other serious concerns.

-Jack Anderson, The New York Times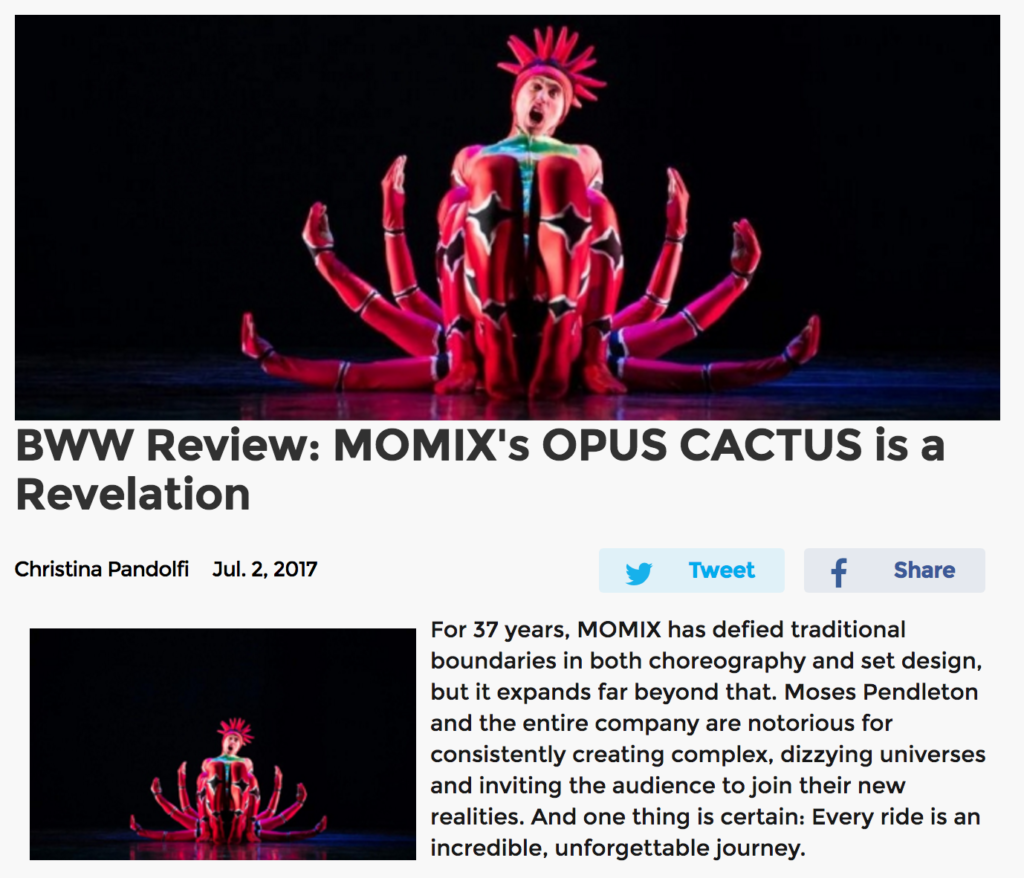 "A feast for the eyes, this performance will linger in my subconscious for years to come."
New York, NY  - For 37 years, MOMIX has defied traditional boundaries in both choreography and set design, but it expands far beyond that. Moses Pendleton and the entire company are notorious for consistently creating complex, dizzying universes and inviting the audience to join their new realities. And one thing is certain: Every ride is an incredible, unforgettable journey.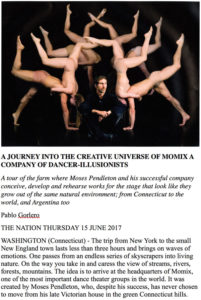 "A tour of the farm where Moses Pendleton and his successful company conceive, develop and rehearse works for the stage that look like they grow out of the same natural environment; from Connecticut to the world, and Argentina too"
Pablo Gorlero: THE NATION THURSDAY 15 JUNE 2017
WASHINGTON (Connecticut) - The trip from New York to the small New England town lasts less than three hours and brings on waves of emotions. One passes from an endless series of skyscrapers into living nature. On the way you take in and caress the view of streams, rivers, forests, mountains. The idea is to arrive at the headquarters of Momix, one of the most important dance theater groups in the world. It was created by Moses Pendleton, who, despite his success, has never chosen to move from his late Victorian house in the green Connecticut hills. Instead of setting up a large studio in New York and becoming a multi-millionaire, he has preferred to build a barn-like studio just across the street from his home. There his closest neighbors are usually deer, raccoons, weasels and even black bears.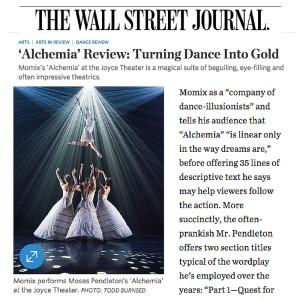 Alchemia Review in The Wall Street Journal
"[Alchemia is] a suite of beguiling, eye-filling and often impressive visual and movement theatrics."

"An exhilarating showcase of marvels for the men and women of Momix, who cavort for their eagerly applauding audiences like so many skilled acrobats in their element. Mr. Pendleton has made them gleam like gold."
-Robert Griscovic, The Wall Street Journal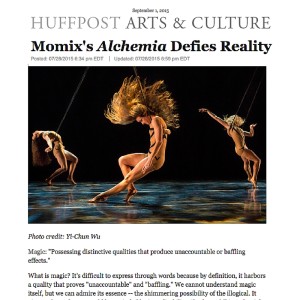 Alchemia Review in The Huffington Post
"[In Alchemia] the audience is struck by the overwhelming sentiment that we have just interfaced with genius. How Pendleton could imagine such a sensory overload from dust is incredible. He has successfully envisioned a mutualistic relationship between dance, music, costume, prop and projection that seems improbable, if not impossible; how would one person conceive of so much from nothing?"
-Alexandra Villarreal, The Huffington Post